Countach LP400
After Bob Wallace tested the prototype during the entire year 1971 it was the time to build a new prototype to go further to production.
For the Lamborghini engineers it was clear that an extraordinary car like the countach was, could not have a normal steel sheet welded chassis, no, it must have a chassis, which is as "avant-garde" like the cars shape.
So they constructed a Formula 1 like tube frame, this tube frame was created by Marchesi and weighted 90 Kilos, 17 less than the prototypes steel correspondent.
Like on the prototype a 4l engine was used, the engine derived from the Espada was modified for higher performance, it got bigger carburettors and the camshaft timing was changed. On the following picture you can see the engineers discussing the fitting of the engine into the new frame.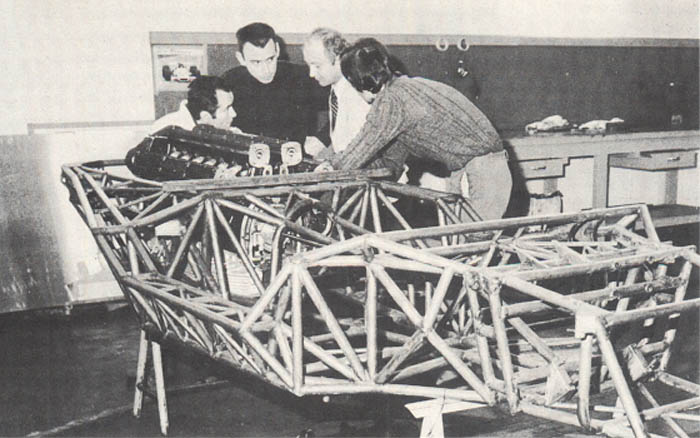 Creating this second ever built Countach was an immense work, the car had to be shown on the Geneva Motor Show of 1973 where it was presented in red.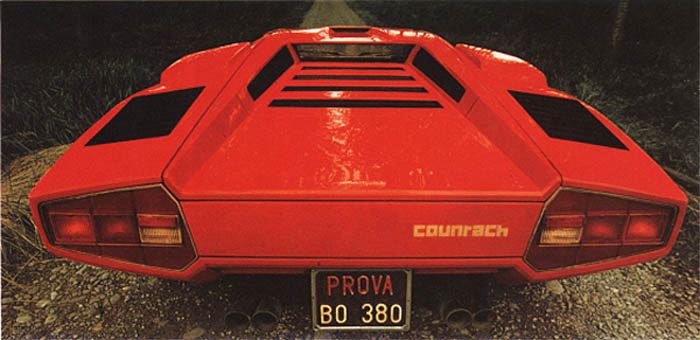 The completed chassis was sent to Bertone where the bodywork and interior was to be completed.

This time aluminum alloy of 1.2mm thickness was used to work out the body, whereas the prototype was made of steel.

The car had 2 windscreen wipers which rested in a V-Position, the dashboard was covered with suede, the hide was black leather.

The midtunnel was lenghtened up to the dashboard housing the ventilation and several controls.

The handbrake lever was positioned in the left door sill, on the right sill was also a little compartment, unfortunately this little useful compartment didn't occur on the production cars.
It took up to the 25th Anniversary cars till this useful space was used again, this time to house the switches for the electrical seats and windows.

-> Back to History-Page
Short after the Geneva Show it was again Bob's part to develop the car further on....